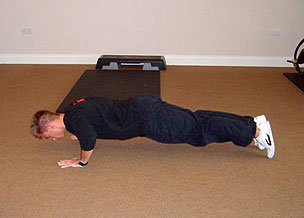 Do you want to improve your functional strength and fitness ability? Do you want to give your joints a rest from lifting weights and to increase your fat burning ability?
If yes, then you should try doing bodyweight exercises.
By lifting and pushing and moving your own body you will increase its functional strength as you are training the way your body should move. It takes pressure off your joints and as your body recruits more muscles during movement it burns more calories.
You can also do them anywhere in the gym.
Burpees, press ups, squats, lunges, leg lifts, chin ups, squat thrusts, mountain climbers and even handstand press ups all work your body hard and by various combinations you can generate a tough, efficient work out.
Try this sample circuit below:
10 burpees
20 lunges
20 squats
10 dips
20 lunges
Rest for 60 seconds and then repeat the circuit twice.
Please see an instructor for demonstrations and ideas for putting your routine together.
By Mark Dopson
Reynolds @ Rainham