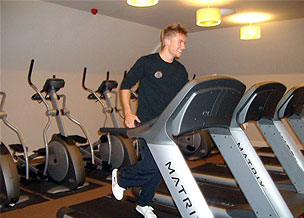 Fancy a quick cardio blast to make you feel energised for the rest of the day?
Try this 30 minute workout …
Make sure you are warmed up before you start
Start on the treadmill setting it for 10 minutes. Start at a brisk walk on the maximum elevation of 15% or see how far you can run in 10 minutes – challenge yourself!
Then, move onto the rower – set it up to do split 500 metres. Performing your first 500 metres, 1 minute rest and then the last 500 metres – try to do this as quickly as you can!
Cross trainer next – set it up for 5 minutes and put it on the highest level you can manage to get those legs working hard!
Then finish on the bike – set it for 10 minutes again, this time on an intervals programme, keep it on a moderate level so that you are working hard when the resistance goes up and when the resistance is lowered try sprinting – spin those legs around as fast as you can!
Remember to cool down properly when you finish including stretching. Please see an instructor if you need any guidance with any of these exercises.
by Kirsty Kemp
Fitness Professional, Reynolds @ Rainham