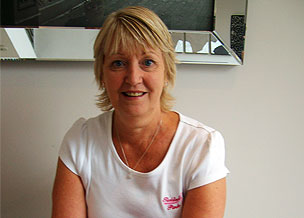 Our Member of the Month for October is Sue Allen. Sue has been a member at our Sittingbourne club since we opened in March last year. We think Sue is an amazing person due to all her hard work both with training at Reynolds and campaigning outside for Breast Cancer Awareness.
Please read Sue's biog below:
"October is Breast Cancer Awareness month and for me is a very special month.
I was diagnosed with Breast Cancer 7 years ago. I had a mastectomy and the following year a reconstruction. My diagnosis was unexpected, I had no family history and I didn't feel any lumps.
My dear friend, Jo, had recently died from the disease, I then realised I was one of the lucky ones.
I started to train for the Moonwalk which I then completed 3 times, then I trekked to China, Brazil and Peru with Breast Cancer Care. With the help of my husband Ken and daughter Justine, we have raised over £26,000 for the charity.
Reynolds has helped me immensely with my training and I find the instructors really helpful and friendly. Sometimes it is hard for me to get motivated but find once I come along to the classes I find them so enjoyable and lots of fun!"
by Sue Allen
Well done Sue and keep up the hard work.
Reynolds @ Sittingbourne