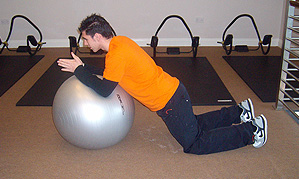 If you want strong core muscles and a toned stomach to go with it then why not add this exercise to your programme?
The plank swiss ball rollout will work your entire core area. Here's how to do it:-
Kneeling on a mat, place your forearms on a ball
Tense abdominal muscles, keeping your body still and straight and use your forearms to roll the ball out in front of you as far as possible, slowly and steadily, and return back to the starting position
DO

NOT

let your lower back arch excessively and if you do feel any pain in your lower back roll the ball back towards you until the pain disappears
If your lower back continues to hurt have a rest before repeating as it may mean your abdominal muscles are becoming tired.
PLEASE SEE AN INSTRUCTOR IF YOU NEED ANY GUIDANCE ON THIS EXERCISE