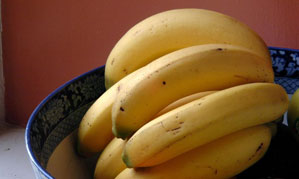 Diets are very popular this time of year and sometimes there is a shortage of nutrients and minerals due to the restrictive nature of diets.
So, to keep a healthy balance, try to include all the colours of food as possible: green, yellow, red, blue, orange and white etc need to be included in your diet every day.
By doing this you will not miss any vital nutrients or minerals.
See below for an example of incorporating the colours of the rainbow into your diet:
Breakfast Cereal with blueberries/kiwi (yellow, blue, green and white)
Snack Banana (yellow)
Lunch Prawn salad with lettuce, yellow peppers, tomatoes… (pink, green, yellow, red)
Snack Jaffa cakes (brown and orange)
Dinner Spaghetti bolognaise (red, brown and white)
Snack Apple (red or green)
Images from freefoto.com