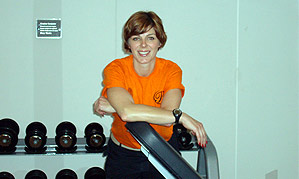 Following the success of the personal training sessions with Emma Mair at Sittingbourne, we are happy to announce that as from Friday 30th January Emma will be taking bookings at The Old Parsonage, Rainham.
Emma will also be running a competition whereby Rainham members will have the chance to win 10 free sessions. Simply write in no more than 50 words why you feel you would benefit from personal training. The funnier the better! Closing date for entries is Friday 6th February. Please leave your answers with the Reception at Rainham.
To book your Personal Training sessions with Emma contact the Reception at Rainham on 01634 233194.
There are discounts for block bookings and buddy sessions with a friend.