Trish joined Reynolds Fitness Spa at Bexley in October 2003 and works out regularly, 4 to 5 times a week. Throughout these years, Trish mostly trained to keep and maintain a good shape, but it has been in the last few months that she has made the difference: with the incentive of having to be bridesmaid in June 2012 and with the help of Reynolds instructors, Trish managed to lose almost one stone in fat weight, 10 centimeters off her waist, 6 centimeters off her hips and 5 centimeters off her thighs.
When we asked Trish to tell us more about her achievement and how she has done it, she said:
"Keeping fit has always been a passion, but being a bridesmaid in June was an incentive. I really enjoy my cardio training, running on the treadmill 3-5 miles or outside, depending on the weather and my mood. Being more determined towards my training, following a good nutrition plan and thanks also to the help of the Reynolds team, I managed to achieve my best ever results."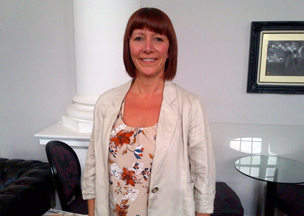 Finally, when we asked Trish for some feedback about Reynolds and questioned her about her future plans fitness wise, she replied:
"My long standing membership with Reynolds says it all. Everyone is very friendly, professional, helpful and personal. It's nice to hear the staff calling you by name rather than your membership number. I have a holiday in 2 weeks, so I would like to lose a few more pounds and also to get into better shape here at Reynolds."
Personal Trainer
Giorgio Pollio.
With the collaboration of Advanced Apprentice Aaron O'Brien.