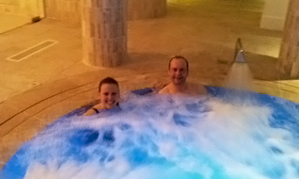 After our previous open weekend was hampered by contractual delays and most of all by a huge dumping of snow!-
We are now holding the formal opening of our newly refurbished Bexley club on the 15th & 16th January.
As well as the pool there is an Ice Station, Jacuzzi, Herbal Sauna, Salt Inhalation Steam Room, Aroma Steam Room, Foot Spas, Heated Loungers, Monsoon Showers and a Relaxation Lounge.
Our beauty team will also be on hand on both days; offering free tasters of our new treatments:-
Hot Stones massage, Jessica Geleration nails, and mini facials with our new Decleor range of products.
There is 20% off all beauty treatments in January and 20% off retail products purchased in January; so go on-treat yourself!
We would like to thank Bexley club members for their patience throughout all the work,but we are sure they will feel that it has been well worth the wait.
Members from all clubs are very welcome to go along on the 15th & 16th, and take friends and family to see the beautiful new pool and Spa facilities.
Special offers on new memberships will also be available on the day.