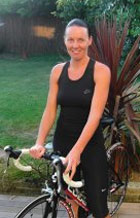 We have chosen Louise Mason to be our Member of the Month for July. Louise has been training incredibly hard over the last few months for many running and cycle races raising money for charity.
Well done Louise from all at Reynolds at Sittingbourne!
Louise's Blog
June 2009 has been my most rewarding month yet. At the start of the month I achieved a personal best in a London 10k road race event with a time of 46 minutes and after that I took part in the Race for Life at Mote Park in which I came 6th out of 4000 other participants with a time of 22 minutes. My biggest achievement came recently when I took part in the London to Brighton bike ride and cycled 54 miles in 3 hours and 10 minutes.
I believe that taking part in Keiser classes and body pump at Reynolds, alongside my own training regime has enabled me to achieve my results.
With many more races booked I hope to improve on the times I have already achieved.
Thanks to all the Reynolds team for your advice and support.