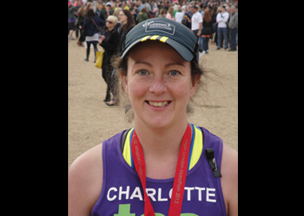 Congratulations to Sittingbourne member Charlotte Haskell who completed the London Marathon on Sunday!
Charlotte has been a member of Reynolds Fitness Spa for a year now and has lost over two stone, as well as completing the gruelling 26 mile London Marathon. She was inspired to run by her three-year-old niece who suffers from tubular sclerosis and has raised over £600 so far.
Having participated in the 2009 London Marathon Charlotte wanted to better her performance, unfortunately she was taken ill not long before she was due to run, she was left with only six weeks to train, despite this she managed to finish in a very respectable five and half hours.
Charlotte found coming to Reynolds was a huge factor in helping to her stay motivated towards her goal of crossing that finish line. Congratulations again on your tremendous achievement.
More information about tubular sclerosis can be found here
If you would like to donate to Charlotte's worthy cause you can here