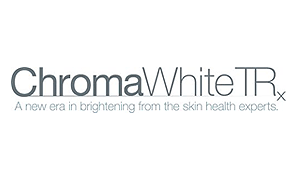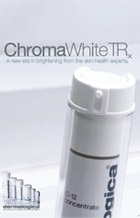 ChromaWhite TRx is a new, synergistic skin brightening system that works to lessen the appearance of hyperpigmentation in as little as four weeks. The primary mission of the new product is to target current pigmentation while protecting skin against further development of hyperpigmentation, for a more consistent, brighter skin tone, free of darkened areas.
Uneven skin tone has been determined to add 10 to 12 years to a woman's perceived age, according to a 2006 study.
ChromaWhite TRx is the first brightening system to take a three step approach to controlling hyperpigmentation while simultaneously focusing on improving skin health.
The ChromaWhite TRx line introduces seven new products to the internationally respected Dermalogica brand, both professional and retail. In particular the ChromaWhite TRx system introduces the use of Algae extracts to help control the cellular messenger systems that direct the cells to make pigmentation.
Among the "hero" ingredients are the peptide that controls melanin formation and deeply moisturising ingredients including Shea Butter and Hyaluronic Acid relieve dryness, increase suppleness and resiliency.
Book in for a 75 min ChromaWhite facial with Reynolds Beauty and discuss your beauty regime with one of our highly qualified therapists.