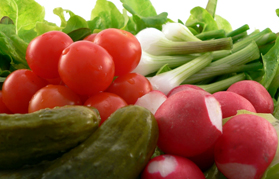 A lot of research has focused on foods that can help keep us young, inside and out. So here is a diet entitled 'facelift on a plate' and is a sample day diet to keep you looking young.
BREAKFAST: Cup of green tea-rich in antioxidants. Porridge topped with linseeds, berries and live natural yoghurt- the yoghurt and seeds provide protein, while the berries are rich in antioxidants.
MID–MORNING: Apple with a slice of cheese- the apple is antioxidant-rich and the cheese gives a dose of protein.
LUNCH: Tinned sardines, salad and tomatoes dressed with olive oil and a slice of seeded rye toast- sardines are high in skin- smoothing omega- 3s, while the soft bones provide calcium to help prevent osteoporosis. The salad and tomatoes give you plenty of vitamins, while the rye bread contains seeds, rich in healthy oils, and is low in GI.
MID–AFTERNOON: Carrot and red pepper with houmous- vegetables are high in anti- ageing vitamins while the houmous supplies a good hit of protein.
EVENING MEAL: Stir-fried chicken or tofu with crunchy vegetables- mainly protein, with another big helping of vitamin-dense veggies. Give the starchy carbs a miss. Glass of red wine- a rich source of anthocyanins. But stick to one glass- alcohol is dehydrating and too much won't do your skin or organs any favours.
SNACKS: Drink water and herbal teas- there's no evidence this will permanently plump out your skin cells, but it can prevent temporary dehydration lines and keep your system hydrated.
Emma Driskell -Fitness Professional @Bexley