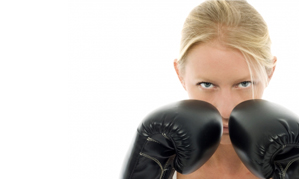 Many people think of boxing as an aggressive sport, but not many people know the benefits of Boxing. Did you know…?
The high intensity training of a 'boxing workout' burns incredible amounts of fat in recovery so you do not have to work out as often.
Boxing will increase stamina, strength, speed and co-ordination.
Boxing is a holistic workout that releases stress.
Boxing is a brilliant aerobic workout that will increase your heart and lung capacity.
The constant rotation of the upper body means your abdominal muscles and oblique's (love handles) are constantly worked without doing a sit up.
Boxing increases postural muscle strength, helping to alleviate common lower back complaints and giving you the appearance of being thinner and taller.
Boxing conditions the total body.
Boxing is a high intensity full body workout and females who train this way will find they will tone their Glutes, Legs and Torso more effectively.
Boxing can be done in isolation through shadow boxing, in pairs and for those who like group exercise, this is a must!
Boxing is so versatile trainers can do it indoors or outdoors. A perfect all year around activity.
If you want to try something different, then seriously try boxing!
This way of training will teach you self-defence techniques whilst keeping you fit, strong and looking great!
By Rachel Porter-Fitness Professional @ Rainham