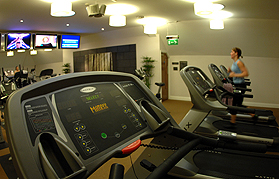 Run! Run! Run!
Running is a fantastic high impact exercise that will work your whole body, improve your cardiovascular system and increase bone density.
Running is a great weight loss exercise and a fantastic fat and calorie burner!
Running can also help to slow down the ageing process. As you get older you naturally lose muscle mass and bone density. By performing a high impact activity you increase your muscle mass and bone density and also reduce the risk of developing osteoporosis (brittle bone disease) by becoming stronger and healthier!
Lowered blood pressure is another advantage to running. As you exercise your arteries become flexed, allowing more blood to pump around the body. By exercising regularly, you will naturally lower your blood pressure.
You will also develop healther lungs. Taking deep breaths during exercise will force your lungs to use 50% more lung tissue than you would normally use!
Running can boost your brainpower, 25 minutes of jogging or running a day can really improve your mental skills, will clear your mind and boost your mood from the endorphins that are released in your body when you exercise.
Your cardiovascular system will become more efficient and stronger making you feel fit and healthy.
Running will help to naturally lower your cholesterol because when you exercise you increase the levels of high density lipoproteins (good cholesterol) and reduces low density lipoproteins (bad cholesterol), which overall will reduce your risk of having a stroke or a heart attack.
So why not try jogging or running and feel the benefits that this high impact activity can bring, just make sure you are wearing a pair of comfortable and supportive trainers.
If you are currently training for a run, marathon or just for some advice please see an instructor or book in for a personal training review where we can design you a training programme to help you achieve your fitness goals!
By Kirsty Kemp
Reynolds at Rainham