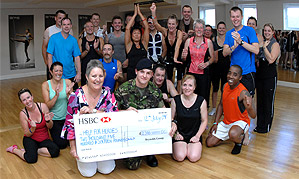 Members of Reynolds at Sittingbourne gave up their Sunday to virtually race to help raise money for Help for Heroes.
22 members of Reynolds at Sittingboune donned their lycra and "cycled" over 75 miles in aid of the charity Help for Heroes, the charity that provides support to wounded military personnel and their families from current conflicts throughout the world.
Cyclists undertook a challenging 3 hour ordeal following a "virtual" outdoor road race, complete with the steep hill climbs, valleys and sprints on the straight roads.
CEO, Emma Reynolds said "A spin workout using one of these bikes would normally last about one hours so three hours was very taxing for our members – even the most fit."
She adds "We are really delighted to be supporting Help for Heroes. It does wonderful work for soldiers and other servicemen and women both directly and through its support of other service charities. Here at Reynolds Group we aim to support charity at every opportunity. We strongly believe that the health and fitness of all our members includes social activity – raising money for charity certainly brings us together with a common cause."