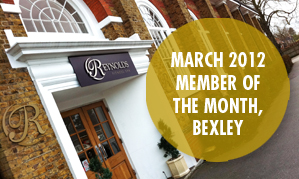 Andrea Bridger
When Andrea first joined Reynolds Fitness Spa in September 2011, her main goals were to focus on keeping active and healthy; she aimed to lose 4 stone gradually over the next year. Over the last 3 months Andrea has lost an incredible 27 pounds in weight.
She has improved her fitness levels massively and now uses the Bexley gym 4 times per week, doing lots of incline walking and slow jogging. She changed her diet, and now eats small regular healthy meals, focusing on protein to help repair and build the muscle and steamed vegetables. Out of the 27 pounds of weight lost, 22 pounds of it was in fat weight alone, losing inches from all over her body.
After her recent 12 week session, Andrea has recorded her new measurements and new goals and updated her programme to keep her progressing and losing weight.
"I have made lots of progress and am extremely happy with my results. I am looking forward to carrying on with my new programme and making even more progress in the future"