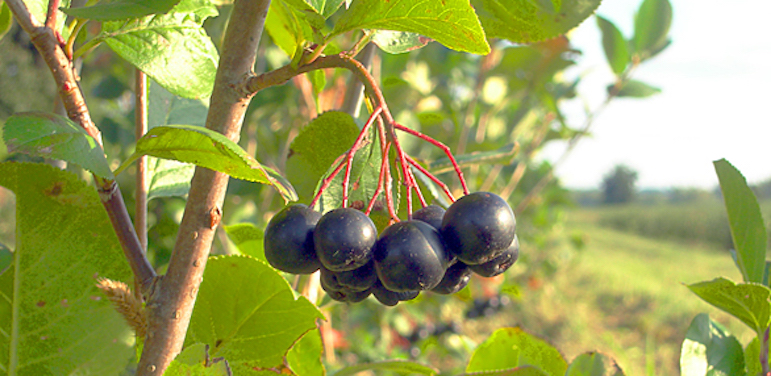 This week our head Chef David Pigram met with an Andrew Tickle, an amazing Kentish producer, to discuss a new ingredient.
Andrew Tickle has lived at Johnsons Farm for the majority of his life. He started his own Agricultural Services business in 1983 and developed a Contract Packhouse for fruit and Veg in 1992. As farming trends have changed the services Andrew has offered have adjusted to suit the market forces (at the time) and he has now decided that the time has come to develop the land use at Johnsons Farm which has been permanent pasture since the early 1990's.
Aronia Berries UK are the very first growers of Aronia Berries in the country. They are based near Sevenoaks, very close to the Retreat ensuring our supply is as fresh as it could possibly be. The berries are grown completely organically with no fertilizers or chemicals added.
This 'superfood' berry is richer in anti-cancer antioxidants than any other berry and three times the level of anti-oxidants than blueberries. Researchers have also suggested that the berries help prevent heart disease. As well as anti-oxidants they are packed full of Vitamin C and fibre which promotes bowel health and cold and flu prevention.
Back in the kitchen, the Waterleaf team have been experimenting with the berries and are not only looking to develop them into Waterleaf dishes but smoothies and cocktails. Look out for these amazing berries in our menus soon.