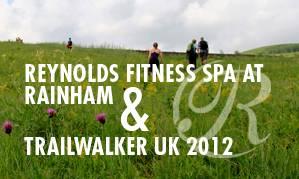 Over July 14th/15th 2012, I (Mark), Chris and Gemma will lead 3 teams of 4 along the Gurkha challenge. The challenege is for Oxfam and the Gurkha welfare trust, read here about the challenge here. It is 100km (62.5miles) along the South Downs. It starts at Queen Elizabeth country park at 6am and we all have to finish within 30 hours. You start as a team of 4 and finish as a team of 4.
All of our team are members at Reynolds Fitness Spa in Kent and we had our first practice hike on Sunday 29th January 2012. We covered 16 miles from 10am to 5pm with plenty of stops, one pub lunch and some navigation errors (thanks Chris!). So 15 of us set off from Herne Bay sea front along the coast to Reculver Towers where we had our first tea break in the pub there. It was cold, misty and a little wet so the pub was a welcome stop, especially as it had a open fire going!
Once a bit warmer and ready to go again we headed past Reculver Towers along the sea wall heading towards Birchington. We had to start using the maps now as none of our band have been that way before. About half a mile out from Birchington we turned inland along Wantsun Way. This track would have lead us through the marshland/fields up to St. Nicholas at Wade, where we would have lunch. Our first navigation error happened here. Chris led a few of the front runners off, after a quick map reading from me. They turned to walk parrarell to the train track when they should have crossed over it; miscommunication on my part unfortunately! We spotted the error quickly called them back and got back on track. By this time the others had headed on their way and arranged a pub meal. The landlord very kindly arranged a long table for us all to sit at, chat and eat. We then had 3 of our team grab a taxi and head home as they all had prior engagements while the rest of us headed back towards Reculver Towers.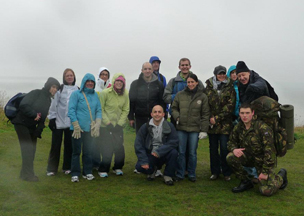 It started to get dark by the time we reached Reculver and we headed on the last part of our hike. Some brave souls started to appear and fish as the tide was on its way in. We made the sea wall at Herne Bay around 5pm and jumped into the cars to head home.
We have had a great start to our training, some tired legs and achy calves and deep sleep on the most part. Everyone got on really well and feels confident for our next training hike!
By Mark Dopson