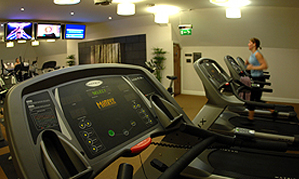 Extensive research has been done on the benefits of Interval Training in a number of populations, from marathon runners to cancer patients (Nursing Research).
It is a system of cardiovascular training that combines short high-intense periods of exercise in conjunction with longer rest periods, allowing for higher heart rates to be safely and effectively utilized.
The beauty of this system is that it is best used for short durations; from anything up to 10mins depending on the intensity you're working at.
For example, you may spend 10secs sprinting and then 1min walking and alternate for 10mins depending on your fitness levels.
Despite this short time, the higher intensities make it an excellent choice of workout for burning fat and increasing VO2 Max.
Here are some different training ideas for treadmill and bikes
1. TREADMILL 15MINS-DO 3MINS JOGGING AT 65-70% MAX HEART RATE THEN 2MINS RUNNING AT 85-90% MAX HEART RATE. REAPEAT THIS 3 TIMES.
2. BIKE PROGRAMME 15 MINS INTERVALS–RPM 70-80 ON THE 1 DOTS, THEN 90-110 ON THE MORE THAN 1 DOTS.
START AT LEVEL 3 AND MOVE THE LEVELS UP EACH TIME YOU TAKE THIS ON.
The easiest way to work out your maximum heart rate is 220 minus your age.
Then from that you can work out 65% and 85% of your MAX HEART RATE.
MARTYN NEAVES-Fitness Professional@Sittingbourne