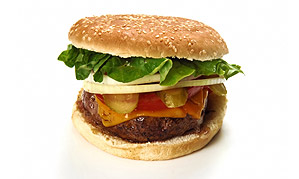 Thinking of treating yourself to a takeaway? Think again!
Everyone likes to treat themselves to a little Takeway every now and again – some more than others do! But do you really know what's in them?
Listed below are a few of our favourite takeaways and what they really contain!
Takeaway
Type
Estimated Calories
Total Fat Content
McDonalds
Big Mac
Large Fries
Milkshake
485
400
380
21.5g
17.5g
9g
Dominos Pizza
Cheese and
Tomato 12 inch
BBQ Wings
539 (per slice)
50 (per wing)
26.4g
2.4g
Subway
Turkey Breast 6 inch
Veggie Delite 6 inch
225
169
3.5g
2.5g
Chinese
Sweet and Sour Pork
Beef Chow Mein
Beef in Black Bean Sauce
715
320
432
42g
24g
16.6g
Kebab
Chicken
Donner
413
745
12g
49g
Fish and Chips
Large Battered Cod
Large Chips
448
502
23g
26g
Indian
Chicken Korma
Pilau Rice
Chicken Dhansak
800
391
750
40g
2g
41g
by Kirsty Kemp
Fitness Professional
Reynolds at Rainham