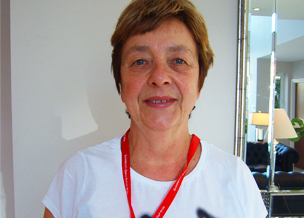 We have chosen Shirley as our member of the month because she is always keen and enthusiastic about every thing she does.
She raised a very impressive £250 for the Sport Relief mile, which she added to the Reynolds' total-a fantastic acheivement!
Well done and a big thank you to Shirley.
Shirley's Statement
I've been a member at Sittingbourne since it first opened.
There is a lovely atmosphere there, with nice people who accept older ladies like me, and work hard to make us feel welcome.
The pool is my favorite part, and I attend aqua aerobics classes twice a week when possible. The sauna and steam room are good too.
I visit the gym proper sometimes, where Martin helps me to keep interested and focussed.
I have problems with my weight and I find that going to the gym helps speed up my metabolism; I've lost 11 kilos so far.
I did the Sports relief mile this year and added my total £250 odd, to the Reynolds' team total.