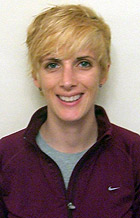 Our member of the month at Sittingbourne is Gabby Manvell. Please read Gabby's blog below.
Hi my name is Gabby and I have been a member at Reynolds since April 2008.
I am a keen fitness enthusiast and particularly enjoy running.
My ongoing aim is to impove my general fitness level. My goal in 2009 is to complete the Flora London Marathon in around 4 hours. I was one of the lucky people to successfully get a place through the ballot system after two previous years entries were rejected. I am delighted to be running and looking forward to soaking up the atmosphere!
My training started on 5th January, 2009 and has been going well so far. My training consists of running three times per week, alternating between tempo, speed and endurance and Pilates twice a week with Emma Mair which I have found particularly beneficial. Emma's classes are very motivational and my core strength and flexibility has greatly improved. I also attend Trina's spin class once a week which is always tough but thoroughly enjoyable.
Jamie has written me a programme of weights to help strengthen and tone and I have found him to be very friendly, approachable and enthusiastic.
If you would like to sponsor me I am raising money for the NSPCC through justgiving.com.
My web page is www.justgiving.com/gabriellemanvell Any sponsorship would be greatly received.
Good luck Gabby!