From 4th January, 2010 Sittingbourne will be holding Ballroom & Latin classes twice a week and introducing John-Paul Ellery as your dance instructor.
John-Paul Ellery
Hello! My name is John-Paul and with Reynolds I would like to introduce you to my world, the world of Ballroom & Latin American dancing. I, myself have been dancing for 13 years, I love it and would recommend that everybody give it a go – you don't know what you are missing! I am sure that everybody has seen, or at least heard of Strictly Come Dancing and this is your chance to learn how to do it too.
There are 10 main dances to learn, 5 ballroom dances and 5 latin dances.
Ballroom Dances
Waltz – a slow, smooth dance. Graceful and elegant. The most popular choice for the first dance at a wedding.
Tango – a strong, passionate, powerful dance. Lots of sharp head movements and a staccato rhythm give the tango a style of its own.
Foxtrot – a graceful, flowing dance. Perhaps the trickiest Ballroom dance to master but well worth the effort!
Quickstep – fast and light footed. The Quickstep is (as the name suggest) the fastest of the Ballroom dances, it's light and bouncy around the floor – the cheeky Ballroom dance.
Viennese Waltz – otherwise known as the "twirly one". Similar to the standard Waltz, the Viennese Waltz is smooth, graceful and elegant, the difference however is that it is a lot faster with continuous turns.
Latin American Dances
Cha Cha Cha – a fun, mid speed dance. The Cha Cha Cha is cheeky and fun, a medium paced, lively dance.
Samba – a fast, bouncy dance. The Samba is a party dance from Brazil – lively and energetic with a real carnival feel.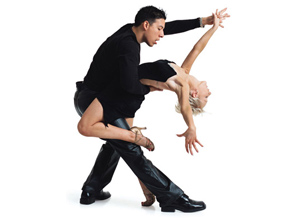 Rumba – slow and passionate. The Rumba is the dance of love, slow and sensual with lots of hip action and eye contact – no giggling now!
Paso Doble – fast and aggressive. The Paso Doble is the story of a bull fight, the male is the Matador and the lady, the Cape. Lots of turns, arm movements and stamps make the Paso Doble what it is!
Jive – quick, quick, quick and full of energy. The Jive is lively and energetic, bouncy with flicks and kicks and some excellent sing along music!
Ballroom and Latin American Dancing is an exciting and sociable way to keep fit! I won't deny that it is sometimes challenging but it's always fun!
I hope to see a lot of you there.
by John-Paul Ellery
Our Ballroom and Latin classes start Monday 4th January at 8 pm. Book with reception or online.