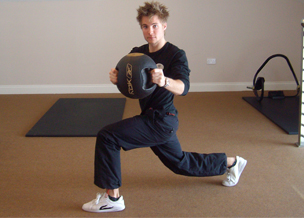 Want to work your stomach, legs and bum all in one? Try this exercise for a toned waist and legs!
Start by holding a medicine ball directly out in front of you with your arms straight.
Lunge one leg forward, making sure your knee doesn't go over your toe and your back leg is bent too, making sure that your back knee is nice and close to the floor, forming two right angles (see picture).
Then, whilst keeping your core stong, rotate your arms to one side making sure your body stays facing forward, then back to the middle and to the other side, so you feel tension in your obliques (love handles).
Then swap legs and repeat the other side.
PLEASE BE AWARE THAT THIS IS AN ADVANCED EXERCISE THAT DOES REQUIRE A LOT OF BALANCE AND IS NOT RECOMMENDED FOR ANYONE SUFFERING FROM BACK OR KNEE PROBLEMS.
Please see an instructor for help or a domonstration of this exercise.
by Kirsty Kemp
Reynolds @ Rainham