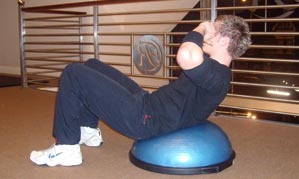 You may have noticed the new "toy" in the fit ball room at Rainham and also in the stretch areas in Sittingbourne and Bexley. It looks like a fit ball has been cut in half and a board fixed across it.
This is called a BOSU board and it is a way to increase your core stability. Very simply you can stand on it and perform exercises. You can stand on the flat side or the ball side. You can also try doing sit ups on the ball side or press ups on the board side.
See the few exercises below to give you an idea or see the instructors in your club for a few guidelines.
This exercise is great for your bum and abs.
Try running on the bosu to increase muscle recruitment and relieve stress on the joints. Try running for one minute, then rest for one minute and repeat.