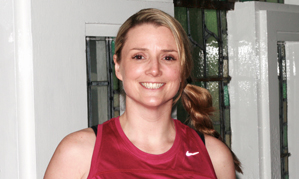 Our May 'Member of the Month' recognition goes to Hayley Patrick.
Hayley joined Reynolds back in November 2011 and has achieved more than weight loss during her time with us. Along with an amazing one stone weight loss she also gained confidence and happiness with her body and a balanced healthy lifestyle.
Her journey really began in January 2012 though, after seeing Christmas and New year's photos of herself Hayley felt very self-conscious about her weight and never enjoyed clothes shopping with friends. She decided then to take control of her life and make a change. With regular reviews and updates on her programme Hayley had all the tools needed but no motivation. Reynolds at the time offered the 'Apprentice Buddy System' in which Hayley booked 3 sessions a week with one of the instructors to aid her motivation and determination. After her last review she went from 74kg to 66.9kg in weight! Hayley spoke of her past experience with other gyms:
''At other gyms I felt even more conscious about other members staring, the facilities and staff seemed very pretentious and no one was really there to push me. I can't believe how fitter I feel being at Reynolds. I enjoy coming to the gym again.''
This is not the end for Hayley though, she has agreed to a 1,600km bike ride in 2015 from Vancouver to San Francisco for charity as a whole new challenge. Having recently started personal training sessions with Dan Jones, Hayley's future goals include undergoing a course on nutrition and continue to train hard for endurance and even more weight loss.
Lauren Frankis: Fitness Professional