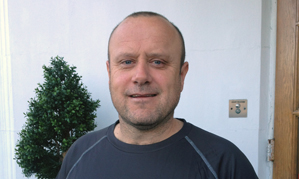 This month our member award goes to Darren Elgar.
Unfortunately, Darren suffered a heart attack in 2009 and a stroke in March this year. Realising he needed to change his lifestyle, he cut down on alcohol and gave up smoking immediately.
Darren used to serve in the Army and belonged to two Queen's regiments and two PWRR regiments in which he spent six years. Since he joined Reynolds in July of this year he has trained hard four times a week in the gym and one day training at home.
''I really enjoy my experience at Reynolds. The personal trainers have all helped build up my confidence and fitness and it's thanks to them I feel good and healthy. I had two training sessions with Jordan and Dan who helped me with my programme and were very helpful in recommending ways to train. For the future, I want to keep improving my fitness and strength. I am very happy here with all aspects of the club and really recommend the steam rooms, saunas and foot-spas as they all help with my circulation and sleep. I am so grateful to all the staff for making me welcome and getting me on the right path."
Darren has worked so hard and the results are visible, keep up the good work in the gym. Well done.
Chris Rowland. Personal Trainer, Bexley.
If you would like a PT session with Chris or any one of our highly skilled Personal Trainers please call 01322 522209 to book today.