Saturday 5th May 26-31miles: 72 days left to train!
The date of the Ghurkha challenge 100km walk is coming closer and closer and with that incentive looming we wanted/needed to get some more miles on our bodies so a long walk was decided upon.
The planned route was to take us down out of Rainham; out via Upchurch; a big loop out and through Hartlip, Detling and Boxley down onto the Pilgrims Way; up Bluebell hill back through Lordswood, Capstone and returning to Rainham 8 hours later.
We all started on a high at Reynolds Fitness Spa in Rainham. Chris was sorting out his webbing and Bergan as the straps were too short. We also had an additional person with us on the walk. Chris had brought his girlfriend Emma along on their first date! Before we started we had Kirsty take a photo of all of us to put on the blog. See below – all looking perky before the long walk ahead of us!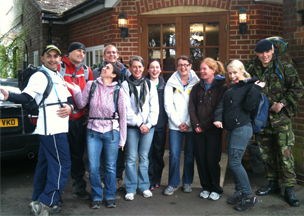 We headed out – down station road and fatally past a chip shop which attracted the two foodies off the group (Steve & Velvyn), who promptly stopped and got a bag of chips each. This was to be the first of many food stops for those two, for such a tiny figure Velvyn can certainly EAT!
The weather held nice as we followed the Saxon shore way, through Upchurch and parralled the river. Walking along the typical estuary foot paths proved easy going, and we past through little hamlets with some wonderful houses and a particular large, hairy black dog the size of a bear!
We happened to see this dog "bear" twice as our path snaked towards our first food break, The Three Tuns pub. The plan was to stop every 6 miles for a quick break and then carry on, which will be the reality on the challenge.
The break extended to about 15 mins as there were some footwear problems and the ladies toilet was busy with a new bride in there taking up the space! The pub was hosting a wedding do and there were lots of smartly dressed people around. Steve and Velvyn ate again…
The next stretch was a straight, long plod along roads from the pub up into Hartlip. We left the pub to head to Hartlip and Queens Down Warren. We went straight down Breach lane in lower Halstow towards Hartlip where Steve kept saying about a cattery where they put spike (their cat) in every time they go away. We then came to London Road which leads us to Hartlip. Hartlip hill was slightly steep but levelled out soon when we got to the top. Hartlip is a beautiful country village. Ross had gone ahead to the tea house to collect a few bits and had us waiting for him.
Once we picked up our pace again, we all headed towards Queens Down Warren, which was a nice leg stretch downhill. But downhill often means uphill – and we started the long slow drag from the bottom of Queens Down Warren up to Detling and the Kent Country show ground. We had another food stop here and a little stretch, by this stage there were achy legs and blistered feet, which needed some treatment fast! Spirits were good though, and we left the road and headed through Boxley woods for some good off road walking.
As we wandered through the woods we past the very, very VERY steep slope we climbed last time we were out, which brought back happy memories! Before going cross country we had left Ross waiting for David who was coming in a Taxi to meet him (lazy sod meeting us half way!). When we got upto the fields Ross and co had caught up with us. The field was a bit rocky with all the natural debris on the floor. Once we crossed the field we had to go down a hill, (quite a steep one at that too). It was all going well until we heard a thud… And there was Chris on his arse, flat out with his Bergan on top of him. When we got down to the bottom we had another break to rest the pains and aches. We left Velvyn to munch on her massive pot of chicken wings (she definitely can eat!).
The next leg took us through Pilgrims Way, which gave us some great scenery and a great sense of history – it is the original route of pilgrims from London to Canterbury (any Chaucer readers out there?). Along the way we came across a small lake to navigate over! This took the form of several ideas: straight through, around the edge or a bit of both! Chris, Steve, Ross and David pretty much went straight through the lake, the girls around the edge and me along the fence. Everyone seemed to enjoy this bit and we carried on to the bottom of Blue Bell Hill and to another break. This happened at the Shell petrol station, a welcome toilet break and a press up competition that broke out between Ross and I.
We started off up past Kits Koty and a chance to finally break out the head torches! Gemma again proved very excitable at this chance and to see a line of bobbing lights heading up hill proves to be quite a sight.
It was at this time that I decided to change the route. We had all started to suffer from aches, blisters, muscle strains and progressively people got worse, so a shorter route home was necessary. This involved a short cut past Blue Bell crematorium and Walderslade. We reached a field to cut through, which in hindsight was a mistake but the idea was to get home as quick as possible. The field proved to be very muddy and a bit smelly, By this time the rain had been falling constantly for hours. The temperature had dropped so we were wet, cold, muddy, smelly and achy. The conditions and aches really started to take their toll on several team members and progress slowed. But we struggled on, and with plenty of encouragement we finally reached Rainham.
The aftermath proved to be ok, I expected dire results with all the aches and pains but nearly everyone I spoke to on Sunday or Monday seemed to have recovered very well.
So well done to everyone on a tough walk and special notice to Emma who was only there on her first date with Chris… That's one to remember!
By Mark Dopson.
Fitness Professional – Reynolds Fitness Spa Rainham