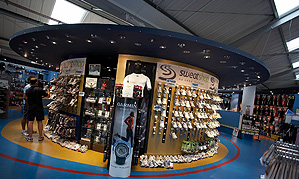 Reynolds have negotiated a 10% discount for all members with top sports franchise, The Sweatshop at Newnham Court Shopping Centre in Maidstone.
As well as stocking a vast range of sportswear and training shoes, The Sweatshop at Maidstone offer bio-mechanical running assessments with side view foot strike and gait advice. This service is completely free with no obligation to make a purchase.
There are also special discount shopping evenings held regularly so look out for these as there are some large discounts to be had on the night and all members of Reynolds Health Clubs are welcome.
Online orders are also welcome. Visit www.sweatshop.co.uk and simply go to the store finder link at the top right of the homepage.
The Sweatshop also hold two free running clubs on Mondays (5k marshalled run) and Fridays (10k lead run). For more details contact the Sweatshop direct on 01622 735520.