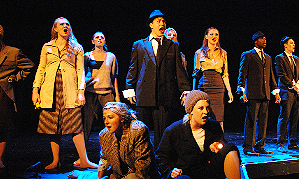 After much anticipation, Reynolds Acoustic Harmonies Group returned this year with a bigger and better show. They performed at the renowned Christchurch, The Broadway, Bexleyheath on 4th March 2010.
The choir has grown in numbers due to the success and popularity of this fabulous group. This has also given musical director Iain Vince-Gatt the challenge to increase the repertoire of these amazing talented students. There were melodious Religious Anthems such as Ave Maria and Caro Mio Ben, soulful Gospel songs such as Down by the Riverside and Nobody Knows, sensational Swing Songs such as Moon Dance and 80's boogie classics such as Rhythm of the Night and Baker Street alongside recent chart hits such as Back to Black and Broken Strings. The audience also enjoyed hearing the dulcet tones of some of the soloist performers who enchanted us with their moving performances.
We are all looking foward to the choir's next performance!