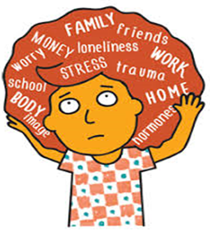 What is stress?
Stress is part of life, and increasing so in 21st century living. Life has 'ups and downs' and we hear the words – stress, stressed out, stressful, stressy – almost daily.
Yet, what does it mean exactly? Some claim they thrive on stress yet, for others, it's a very different experience. Does everyone get stressed? Is someone's stress, another's pressure? How is it experienced?
Can you relate to any of these examples?
Your fitness training learning isn't going well. You're struggling to pinpoint why. Finding ways, ideas to grasp techniques is becoming stressful.
Stepping up to a top-level dance class is challenging. Are you experiencing stress or pressure about learning new movements? And, what to do about it?
You started extra singing lessons but there's more to it than you thought! You start feeling downhearted, start comparing yourself to others and feel stressed you're 'not good enough'.
Spiteful criticism you're getting on social media is stressing you out.
You're getting stress about a particularly challenging beauty assessment coming up.
You have ADHD and a certain situation triggers you.
You're struggling with the biology learning in beauty classes.
Stressful stuff is happening in your personal life. It starts affecting you at college.
Stress can affect the mind and body in many ways, and everyone experiences stress differently. Plus, we can all have 'one of those days', although pay attention if they continue or become the norm. Exploring the Self- Help Zone Courageous Conversations might be helpful.
What do you know about stress? Check out these FAQ's to discover more:
Stress