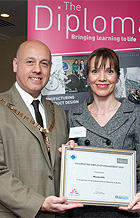 Reynolds have received an award for its contribution to work based learning for Bexley students.
On Friday 20th March, Emma Reynolds was presented with an award to mark her significant contribution to Bexley students working within the work based learning sector.
The award was presented by the Chief Executive of the London Borough of Bexley, Will Tuckey and The Mayor, Councillor Nick O'Hare.
The Reynolds Group continue to actively work within the local community to raise skills and training with the work place with outstanding results.