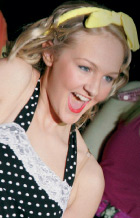 Celebrate with Reynolds Performing Arts at our open day on Thursday 3rd December.
Winner of a National LSIS Star award and an OFSTED 'Grade 1 outstanding provider'.
Giving you the opportunity to view the Reynolds students showcasing their talents and achievements.
Throughout the day there will be studio classes, rehearsals, performances and refreshments from 10:00am until 4:00pm as well as staff who will be there to offer advice and information.
Reynolds is a Beacon Training Provider offering funded performing arts full time courses from 16 years, in a full and comprehensive programme leading to a life as a professional performer.
Open Day is at The Chapel, Chapel Walk, BEXLEY, KENT, DA5 2DX