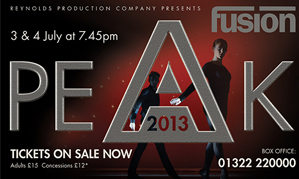 This year's 'Peak' Performance is just around the corner. The show,entitled 'Fusion' will be held on 3 and 4 July 2013 at The Orchard Theatre in Dartford.
Combining an exciting programme of acting, singing & dancing the show will demonstrate the talent, hard work and dedication of all the students. It will also be a showcase for our professional year students who are graduating in July, showing them at their Peak (as the title suggests).
One of this year's graduates is Beckie Davis, she spoke of her experience with Reynolds Performing Arts:
''Being in my third year, I have had some great experiences of many different shows with Reynolds. The build up and rehearsal period is always hard work and very tiring but also very enjoyable. It brings the students of all years together and allows us to work in a more professional manner with our peers and teachers. The Peak shows are always of a very high standard thanks to our teacher's choreography, direction and experience as well as our hard work and dedication. "
Good luck to Beckie and the rest of the Performers at 'Peak', do us all proud!
Date: Wednesday, 3 and Thursday, 4 July at 7.45pm.
Location: Orchard Theatre, Dartford, DA1 1ED
Ticket prices: £15.00* and £12.00 (concessions)
Tickets are available at the theatre box office on: 01322 220000.
*Booking fees apply unless paying by cash at the Box office