On 1st, 2nd and 3rd July 2009 the Reynolds Performance Company took part in our annual end of year production at the Greenwich Theatre under its new and exciting title of Peak.
The show received rave reviews from all who saw it and has been acknowledged as our best production ever. This was due to the hard work and determination of our fabulous, talented teaching staff – Amanda Tooms-Peel, Iain Vince Gatt, Paul Madden, Sarah Drummond, Caroline Madden, Deborah Galloway, Mandy Montenez, Jolene Kiddle and James Palm.
Thanks should also go to the inspired lighting from James Whiteside and the music and sound effects from our Sound Designer, Craig Garratt.
Special thanks for the invaluable hard work of Nicola Ireland, Stage Manager, Mark Beazley, Sound Recordist and Sebastian Kelly.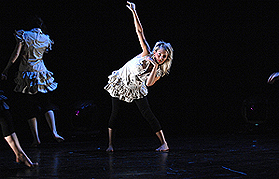 Special mention should go to the following students for their exceptional performances – Jak Allen and Jadey Duffield (Tell Me On a Sunday), Rachel Munn (Pirate Jenny), Dan Cappa (Goodbye), Ellie Shanahan (Thorns), Esme Jones (Mack the Knife) and also Charlie Freed, Kayleigh Hallsworth, Billie Aplin, Lorna Brooks, Ashley Martin, Bertrum Levaughn, Emma Russell, Emma Cummins, Lucy Enever, Jordan Palmer, Lucinda Roderick and Jenna Weller.